The District's replacement vessel, the M/V Wabanaki was constructed by Blount Boats, Inc. in Warren, Rhode Island.  She will replace another Blount built boat: the nearly 40 year old Island Romance.
The twin screw, 399 passenger M/V Wabanaki has an overall length of 110 feet, breadth of 32 feet and is powered by Caterpillar diesel engines.  She is very similar in design to the eight year old M/V Aucocisco III.  Both vessels were designed by Seaworthy Systems/Rolls Royce.
Construction of the M/V Wabanaki is the result of funding that was secured through the American Recovery and Reinvestment Act.
New Vessel Update as of January 9, 2014
Casco Bay Lines is excited to announce the arrival of the M/V Wabanaki in Portland. After a 17 hour journey from Warren, RI the Wabanaki arrived in Portland at approximately 8:00 AM on Thursday (1/9). A Coast Guard inspection and crew familiarization training must be completed prior to placing her into service. We hope to accomplish this in the next few weeks.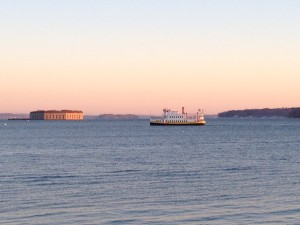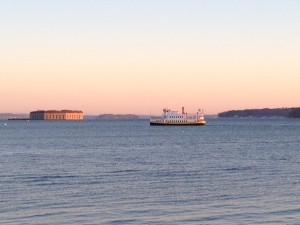 New Vessel Update as of May 13, 2013
Construction of the District's replacement vessel, M/V Wabanaki, remains on schedule at Blount Boats in Warren, Rhode Island.  Over the past month, a considerable amount of exterior painting has been accomplished.  The lengthy process of installing wiring throughout the entire vessel has begun.  She was recently moved outside from the large shed where construction took place over the past year.  Rudders and shafts have yet to be installed.  Now that the vessel is outside, the pilothouse will soon be attached to her 02 deck.  Delivery in Portland is still planned for September of 2013. 
New Vessel Update as of April 10, 2013
Construction of the District's new vessel, M/V Wabanaki, at Blount Boats in Warren, Rhode Island, continues on schedule.  The anticipated delivery date remains in September of this year.   Her keel was laid in April of 2012.  Since that time, crews have been working steadily to erect steel and install engine room and other below deck components.  Sandblasting of the steel, which must take place prior to the application of coatings took place last week.  Immediately following completion of the blasting, the first coats of primer were applied to the vessel.  Shortly thereafter, final coats of paint were then applied to the exterior superstructure and hull.  It is anticipated that the vessel and pilothouse (which has been constructed separately) will be moved outside of its construction shed sometime later in April.  The pilothouse will be attached at that time.