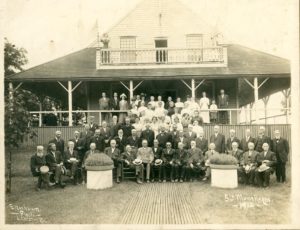 Back in the fall we released a documentary about our history. It was incredibly popular and we began to realize that we weren't the only ones who had an obsession with the history of Casco Bay. The historical societies and museums in the region play a huge role in preserving this history. And so, as they prepare to open for the season on May 26, we thought it would be fun to chat with Holly Hurd-Forsyth, Curator of the Fifth Maine Regiment Museum.
The building that now houses the Fifth Maine Regiment Museum was constructed by members of the regiment and has stood strong on Seashore Avenue on Peaks Island since 1888. But before we learn more about the building, here's a quick refresher on the Fifth Maine.
The Civil War started in April of 1861, and just a short time later the brave men of the Fifth Maine Regiment mustered in Portland to serve three years fighting all across the eastern theater of the war—the men fought in the battles of Antietam, Bull Run, Fredericksburg, Gettysburg, and many others.
After the war, the men wanted to keep in contact, so they began hosting regimental reunions, usually on one of the islands in Casco Bay. In 1887 the group decided they wanted a more permanent place to host their reunions and bought a piece of land on Peaks Island, completing construction in less than a year.
The annual reunions brought soldiers, family, and friends together—many staying in the newly constructed building, which had 15 rooms. They rented cots in the hallways, stayed in the bedrooms on the first floor, and even up in the tower, where the nicest, and most expensive (at $9 a week) room was located.
According to Holly, the final member of the regiment passed away in 1938, and the final reunion in 1940 included just family members. After that the building sat mostly unused, falling into disrepair. In 1954 the building was given to the community and turned into a museum to remember the Fifth Maine Regiment.
"They built the building in remembrance of their comrades who didn't survive the war," said Holly. "The stained-glass windows are dedicated to the different soldiers. They really wanted all of the soldiers to be remembered, and that remains our main goal now at the museum."
We count ourselves lucky to have such a special place located along our route. Next time you take a Casco Bay Lines ferry out to Peaks Island, stop by the museum to learn more about the regiment, its members, and the history of Peaks Island!
We're looking to share more stories about the history of Casco Bay here on our blog. If you have a particular island, location, or event in history that you would like to see featured here, feel free to reach out to us!