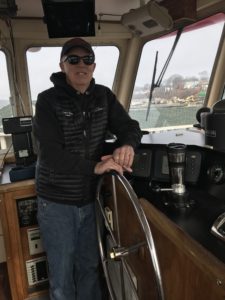 On the warmest day of February, with the fog lifting, Captain Bill Wanzer stands in his floating office atop the Machigonne II. It's his first run of the day out to Peaks.
"This morning in the fog was pretty challenging, visibility and weather is a big challenge," he tells me as the last of the morning's fog is burning off. "Safety is our top priority."
Bill started with Casco Bay Lines 28 years ago as a deckhand. He was trying to stay out of "mischief" while living on Peaks Island as a merchant sailor. Over the years, he worked his way up to Captain – an integral member of our crew. He's humble though. And even though he's quiet at first, he's clearly a funny guy. So instead of taking credit for his accomplishments he describes it like this: when you start as a deck hand, they give you a bunch of marbles, when you've lost all of your marbles, you become a captain.
Like all Casco Bay Lines captains, he can pilot every boat, so he travels all over Casco Bay throughout the week on our different runs and cruises, meeting islanders and visitors from all over the place. It's the people—young and old—he says who make Casco Bay such a special place to live and work.
Bill married an island girl and tells me that, even though he loves all of the islands for their totally unique identities, he's especially partial to Great Diamond because that's where she's from.
Over the years, he's seen a lot of island kids grow up, get married, move away, and, in some cases, come back to Casco Bay. He jokes that Parker, a Casco Bay Lines deckhand who grew up on Great Diamond Island, was a "terrible pain when he was a kid, a bundle of energy," but he's turned into a great adult. Young people, like Parker, make the place happen, Bill says.
"There are a lot of moments," he answers with a chuckle when asked what makes Casco Bay Lines special. And based on his stories, he has seen it all—from couples getting married on the Bay Mist to families heading to say their final goodbyes to loved ones.
For Bill—and for a lot of us here at Casco Bay Lines—the best part of the job is getting to be part of these moments and part of the Casco Bay Lines community —seeing families come back year after year, watching kids grow up, and building connections with our riders.
While you can't always see Bill, or our other captains, as they steer the ship, you can rest assured that while you're headed down the bay with your family, or hopping over to Peaks for a picnic lunch, he's got everything under control. And you can focus on creating new memories and enjoying some of those moments that Bill takes such pride in.
From time to time on our blog we'll be featuring stories of our fantastic crew to highlight their different roles, personalities, and connection to Casco Bay, our customers and our ferry line. If you have a particular staff member who you feel should be highlighted here, feel free to reach out to us!