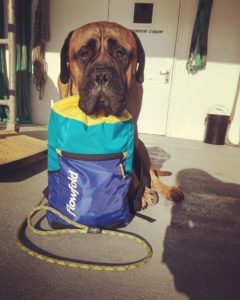 If you take the 5:45 p.m. ferry from Portland to Long Island, you've probably seen one of our favorite passengers, Watson the Bullmastiff, with his mom Maxine headed home from a long day at work. (Dogs can ride too with their own ticket!)
What's so special about this two and a half-year-old gentle giant, you ask? Well, in addition to his dashing good looks and affinity for island life, he's also a certified therapy dog.
Watson lives on the east end of Long Island with his mom and dad. After spending summers on the island growing up, Maxine moved to the island full time in 2013, and she and her husband bought their home there in 2016.
Around that time, they brought an 8-week-old Watson to the island, and his journey to becoming a therapy dog started not long after. When he was just 12 weeks old, he started in a puppy class where he was exposed to different situations like loud noises, different people, and other dogs. He was such a good boy that he was given a STAR puppy award!
After that class, Watson (and Maxine's) education continued – they took an adolescent puppy class, basic obedience 1, 2, and 3, and the Canine Good Citizen test. Finally, they underwent three supervised visits and screenings by a representative from the Alliance of Therapy Dogs at Cedars Nursing Home and Watson officially became certified as a therapy dog.
Five days a week, Watson and Maxine board the 6:45 a.m. boat from Long Island to head to work. During the day, Watson tags along with his mom to Flowfold's headquarters in Scarborough, hanging with some of his four-legged friends while Maxine works on production and design of Flowfold's minimalist outdoor gear.
But Watson's favorite time on the mainland is during those hours before or after work, when the pair can be found putting Watson's skills to work, visiting his favorite residents at places like the Maine Veteran's Home on Route 1 in Scarborough, Cedar's Nursing Home, Spring Harbor Hospital, and several other local businesses. He's also been known to show up from time to time at Long Island School!
At the end of a long and fulfilling work day Maxine and Watson climb aboard their boat home and spend the trip knitting, reading, talking with friends, and napping (at least in Watson's case). Here at Casco Bay Lines, we know that our customers depend on us to get to and from the islands. And we know that many of our customers (both two and four-legged) have people on the mainland who depend on their arrival every day. We're awfully proud to play even a small role in Watson's work!
Impressed by their commitment to helping others, we asked Watson and Maxine if sometimes the days seem long. Her response? They both love kicking back and relaxing on the ride home across Casco Bay. And living on an island is like going on vacation every time you go home. Watson just wagged his tail and smiled.
From time to time on our blog we'll be featuring stories from island residents. Casco Bay Lines remains committed to fostering strong relationships with our island communities. If you have an interesting story, feel free to reach out to us.