With a nod to both history and innovation, the Casco Bay Lines Board of Directors recently voted to name the new vessel soon joining the fleet, "Battery Steele".
Work on the new vessel kicked off back in 2018 and the brand-new passenger and vehicle ferry, now well under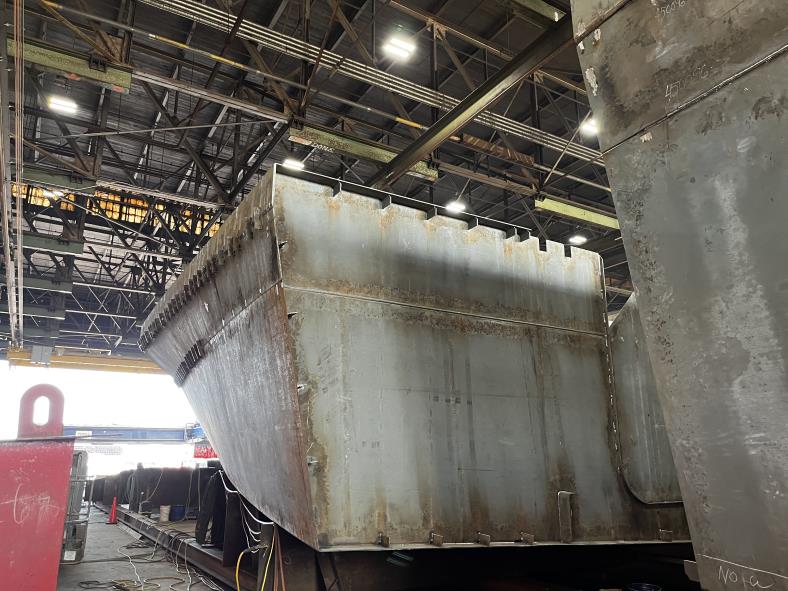 construction, is set to replace the Machigonne II in service to Peaks Island next year.  Most notably, the steel vessel will feature a cutting-edge diesel-electric hybrid propulsion system, utilizing innovative battery technology, in place of a conventional diesel mechanical propulsion system to cut carbon emissions and improve the rider experience. More information about the project can be found on our website. The name "Battery Steele" is, of course, a reference to this battery and also to the beloved historic military fort on Peaks Island.
Nestled on the oceanfront of Peaks Island, Battery Steele stands as a reminder of Portland's pivotal role in World War II. Spanning over 14 acres, this historic military fortification whispers tales of bravery and strategic defense. Completed in 1942, it was named in honor of World War I Coast Artillery officer, Harry L. Steele. More than a military site, it served as a crucial guardian of Casco Bay and Portland Harbor, its reach extending from Kennebunk's sandy shores to the rugged coast of Popham Beach in Phippsburg.
As the largest gun battery on Peaks Island, it is also one of the largest in the United States, standing as a testament to a bygone era. Battery Steele's legacy stretches far beyond its military bounds, resonating with a sense of deep historical significance and communal pride.
But the true beauty of Battery Steele lies in its transformation from a military relic to a public space which was guided by the Peaks Island Land Preserve in 1995. In 2005, this iconic site received a well-deserved accolade, being listed on the National Register of Historic Places. Choosing to name the new vessel "Battery Steele" is a fitting tribute to the site, honoring its past while celebrating its present as a place of reflection and community connection.
Drawing inspiration from this rich history, the "Battery Steele" will become one of the first public passenger ferries in the United States to utilize this innovative propulsion technology. It demonstrates Casco Bay Lines' commitment to sustainability and the health and future of Casco Bay.
We look forward to welcoming "Battery Steele" to the waters of Casco Bay in 2024!