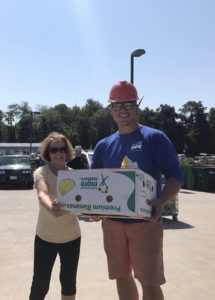 For Casco Bay Lines deckhand Parker Robinson, the Maquoit is as familiar as his childhood school bus.
That's because, for him, it was his school bus.
Growing up on Great Diamond Island, Parker woke up every morning and climbed aboard the Maquoit to head to Portland for school. Years have passed and change is as inevitable as the tides. Today, the 7-year Casco Bay Lines veteran gets up every day and loads freight and passengers onto that same boat.
Parker is one of our old salts now, but says that the toughest thing when he started was learning how the tide impacts each of our vessels differently. This is especially important on the Maquoit because our team is offloading freight and passengers as the tide changes between 6 and 10 feet. This, Parker explains, "can really throw a wrench in our plan." To combat the fast-changing tides, Parker says the freight team has a system down that determines where freight items, and passengers, are loaded and un-loaded. "The boat makes you think," he says.
Every day brings something new when it comes to freight on Casco Bay Lines (we handle over 500,000 pieces of freight a year – everything from groceries to tombstones), so our team must be ready for anything. And the challenge that comes with that is one of Parker's favorite parts of the job.
Another thing he really enjoys? Winters on Casco Bay.
Of course, everyone on our team loves those bright, sunny, mid-august days, but Parker maintains a fondness for a different season. "Going down the bay after a big snowstorm is one of the most beautiful things you could see," he says. Plus, nothing brings a team together like shoveling off the decks and docks so our boats can stay on schedule.
It's that camaraderie, a strong aversion to sitting at a desk, and the opportunity to work in his childhood "backyard" that has driven Parker's ambition to move up from one of the youngest crew members to one of the decision-makers on the boat.
"You're working with family here. Everybody really looks out for each other," he says. "Plus the view from the office is pretty good every day."
Tides, seasons, a typical day working at Casco Bay Lines… change really is constant. And here at Casco Bay Lines we continue to grow each year, welcoming more and more visitors and transporting more and more freight. We couldn't be more thankful to have dedicated crew members, like Parker, as part of our team year after year.
From time to time on our blog we'll be featuring stories of our fantastic crew to highlight their different roles, personalities, and connection to Casco Bay, our customers and our ferry line. If you have a particular staff member who you feel should be highlighted here, feel free to reach out to us!