Whether your little ones are home for the summer or you're looking to take advantage of the warmer weather on the weekends, it can be hard to decide what to do with the kiddos on a hot day. Summer is short and the pressure to make those precious childhood memories can be intense for parents. Logistics can be daunting. Costs can add up. The heat can be overwhelming.
We've been there. There's a fun piece of parenting wisdom we've seen floating around on the internet – if the kids are bored or cranky, just add water! While we don't claim to be parenting experts, we do know a thing or two about water. And, let's face it, kids do love boats and adventure!
No need to decide days in advance. If the stars align and you can get everyone out the door, throw some snacks, sunscreen and sweatshirts into your bag and make your way down to the terminal. Purchase your tickets there and prepare for some seriously shocking value – special fares are available for children aged 5-13. And children under 5 cruise for FREE.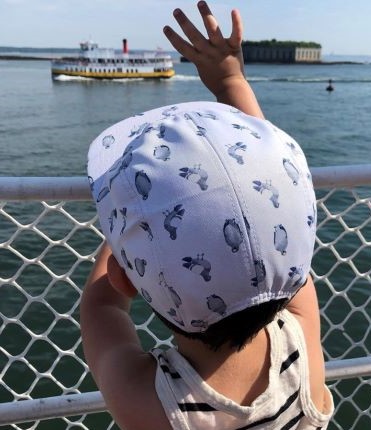 If you have a little explorer, might we suggest a trip on our Mailboat Run? Grab a map at the ticket window and see if you can work together to follow along as the boat cruises to five different islands: Little Diamond, Great Diamond, Long, Cliff, and Chebeague. Kids love to watch as the crew uses a crane to unload the cargo at each stop. And you can decide whether to keep things simple and stay on the boat, or to ask the crew if you can hop off the boat for a quick ice cream cone. Keep your eyes open for seals, eagles and lobstermen. Can your swashbuckling crew spot any other Casco Bay Lines vessels underway? Want to sneak in some summer learning? Talk about the history of Portland and ask the explorers to guess what year Fort Gorges was built! (Hint: 1864)
If your kiddos are a bit younger, a ride on the Machigonne II to Peaks Island makes for a shorter trip. Just about 17 minutes one-way on the ferry, the ride on the ferry to Peaks Island and back is plenty of excitement for the little ones. If the kids need to burn off some of their energy when you get there, you can rent bicycles on the island (or bring your own, just don't forget your bike tickets) and see where the day takes you—it's full of places to explore. If you've got older kids and are feeling adventurous, you can bike all the way around the island, about four miles. If that trek is too far for little legs, there are some great beaches closer to town that are perfect for soaking in the summer sun (don't forget your sunscreen!), splashing around in the water, or building sandcastles.
No trip to Peaks Island is complete without an ice cream from Down Front. Before you hop on the ferry home, stop in and pick out your favorite flavor to savor on the trip back to Portland.
Deep breaths mamas and papas. There are only a few short weeks until school starts again. In the meantime, when the AC isn't cutting it, hop on a Casco Bay Lines ferry and let the ocean breeze help cool everyone off. The kids won't even realize that their giving you the gift of wonderful memories.
Happy adventuring!