Growing up on a cattle ranch in Utah, Rob Anderson didn't have a connection to Maine until a mission call to serve the Mormon Church brought him to Nova Scotia, New Brunswick, Prince Edward Island, Newfoundland, and Maine.
It took a few years for him to get back to the area – he attended college at BYU, worked as a flight attendant for United Airlines, traveled the world with a touring dance team, and owned his own hair salon in Salt Lake City.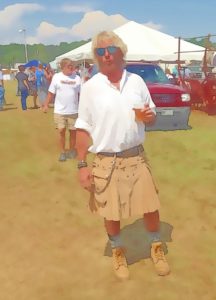 Rob has been painting since he was 11 years old, and when he was choosing between Maine and Alaska, the rocky coastlines of Casco Bay appealed to his artistic side. He says that working on the waterfront every day inspires him, and his paintings prominently feature familiar sights like Spring Point Lighthouse, lobster boats, and a few yellow, red, and black vessels you might recognize.
Rob has been one of our operations agents for the past 18 years. What does that mean? Our team of seven operations agents are our resident Jacks (and Jills)-of-all-trades – so you'll often spot a kilt-wearing Rob driving a fork lift, unloading freight, making sure the boats are crewed, supervising the ticket office, and helping out the management team.
"You're never doing the same thing twice," Rob says.
When you're a world-traveler like Rob, it is easy to think you've seen it all, but when you work on our team, and transport freight, you learn that there's always something interesting and cool headed to the islands. Rob said the craziest thing he has seen come through the freight shed was a shipment of poison dart frogs from the Amazon, headed to Peaks Island for someone's aquarium!
Even though he isn't from here, over the years, Rob has cultivated a strong bond with the Maine coast and the island residents that call Casco Bay home. Building these connections has become the best, and most rewarding, part of his job.
"The people, the islanders, are my favorite thing," he says. "I have tons of friends down there, a lot of people I love seeing and talking to every day when they're coming home from work."
And we couldn't agree more with Rob, our customers and co-workers truly are the best part of the job here at Casco Bay Lines! After seeing the world, we're glad Rob decided Maine (and Casco Bay Lines) was where he wanted to plant his roots!
From time to time on our blog we'll be featuring stories of our fantastic crew to highlight their different roles, personalities, and connection to Casco Bay, our customers and our ferry line. If you have a particular staff member who you feel should be highlighted here, feel free to reach out to us!