When Caity (Baker) Gildart was a kid, she had it pretty good. Every summer she would board the Casco Bay Lines ferry with her dad, mom and sister and head out to her family's cottage on Peaks Island. Most of us can probably picture the scene. We can imagine how she was feeling just by pausing and reaching back into our own childhood memories of summer breezes and the grand adventures that were awaiting us.
So, we suppose, it's not all that surprising, when we fast forward to today, that Caity has made a career out of helping others experience some of the joy she did, standing right where she stood, on a Casco Bay Lines ferry.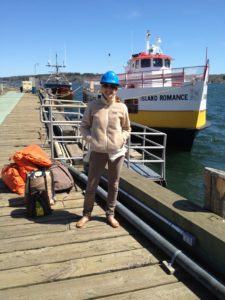 After college, Caity found herself in Portland. She started at Casco Bay Lines the same way most do – during the summer, selling tickets and loading freight. She met an adventurous (and handsome) guy named Andy who also worked at CBL, and shared her love for Portland's Casco Bay, and they were hitched. After leaving for a brief stint to try out athletic training, she was lured back by an exciting opportunity. CBL was seeking a Sales and Marketing Director. And she was a natural fit.
In this role, her job description reads like four jobs crammed into one. Her primary responsibilities include overseeing charters, tours, lobster bakes, group commuter service, marketing and sales. Primary, people!  She also oversees management of all the operations agents, ticket agents and freight agents. She's quick to mention that her team is self-sufficient, running itself like a "well-oiled machine". And while we agree that we've got one heck of a team, we're sure there's an old adage somewhere about teams and leaders that would explain the importance of her role perfectly.
No two days look the same. One day she may be helping in the freight shed. The next she might be helping set up for a 200-person wedding complete with a caterer and a band. Casco Bay Lines' charter business has grown tremendously since Caity took over. Corporate events for the area's largest businesses, weddings of all shapes and sizes, springtime prom events, surprise birthday parties, school group trips, you name it – she sells it and then makes it happen.
And every year, more and more people looking for a unique venue discover the ferries. Sales in the "shoulder seasons" of April, May, October and November continue to grow. Recently, the Bay Mist (heated and available year-round) was used to host a gorgeous winter wedding. The reduced rate for off-season charters is an added bonus.
But, in spite of all the change and growth, there is one thing that has remained constant for Caity. Ever since she was that little girl on her way over to Peaks Island, she has been captivated by the sea. And when you ask her to name her favorite part of the job? "Easy. There is nothing more beautiful than Casco Bay. I get to talk to people every day and help them. They're trying to figure out how to have a waterfront event, how to wow their guests, many of whom have never been to Maine, with something unique that captures the essence of the sea. And, as it turns out, it doesn't get any more waterfront than having your event on our boat."
So the next time you need to plan a Bat Mitzvah, or you're trying to find something for all the visiting members of the American Chestnut Foundation to do, I would recommend reaching out to this member of our crew. She's down on the water even on her days off (yes, that's where she spends them), and she's more than happy to work her magic and help you host the perfect event on Casco Bay.
From time to time on our blog we'll be featuring stories of our fantastic crew to highlight their different roles, personalities, and connection to Casco Bay, our customers and our ferry line. If you have a particular staff member who you feel should be highlighted here, feel free to reach out to us!