When you're cruising along in Casco Bay, it's hard to miss Fort Gorges. Built on Hog Island Ledge at the entrance of Portland Harbor, the fort serves as a sort of beacon, welcoming all returning to Portland from the sea.
History lovers delight in the stories and attractions Casco Bay has to offer. We've blogged about Casco Bay's role in WWII, when western Casco Bay became the fifth most active naval port in the United States. But ferries have been cruising people around Casco Bay since the 1800's. And Fort Gorges has been standing tall since it was built between 1858 – 1864.
According to Greater Portland Landmarks, the stone structure was named after Sir Ferdinando Gorges (what a name!) and intended to lessen the threat of foreign naval powers, initially provoked by the War of 1812. Beautiful from above, as captured in our recent videos, the structure is a D-shaped, two-story, enclosed fortress. It was constructed entirely with local granite, and hosted 56 gun emplacements on the south, east, and west facades.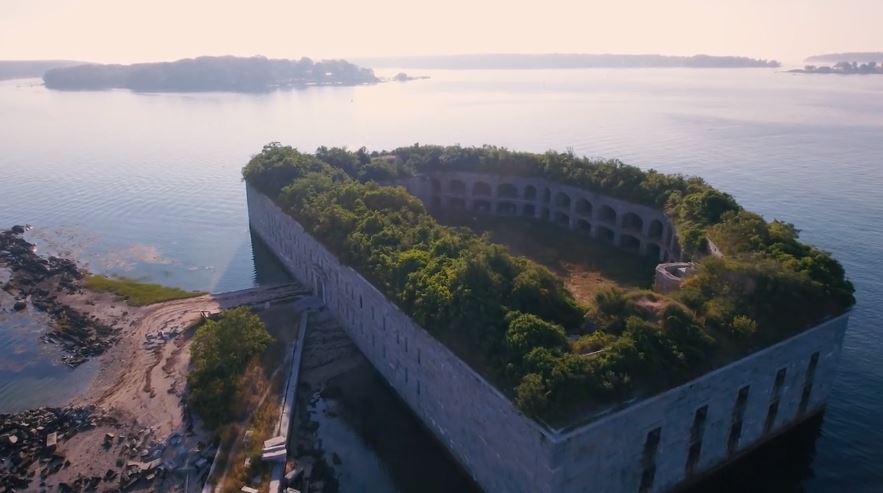 Designed for battle, it was destined for a different fate. By the time it was completed in 1864, Fort Gorges was already deemed obsolete due to technological advancements developed during the Civil War. It was eventually given to the City of Portland and is now a park.
If you're interested in viewing the history of Casco Bay up close and personal, our Mailboat Run is a great way to see the sights from the water! We make two daily trips down the bay year-round, passing right by Fort Gorges, and cruising Casco Bay to help you get your history fix. For even more information about the history on display around Casco Bay, check out the fantastic historical societies located on the islands—the Fifth Maine Regiment Museum on Peaks Island, the Long Island Historical Society, the Cliff Island Historical Society, and the Chebeague Island Historical Society.
Casco Bay has a rich history, one that we are very proud to be a part of. And we're not the only ones!
Rising Tide Brewing Company, an independent, family-owned brewery that has been rising through the ranks of Maine's craft beer bonanza, is lending a hand to help preserve Sir Ferdinando's namesake. In addition to sharing their affinity for, well… good products, Casco Bay Lines and Rising Tide also share a love for Casco Bay. And we couldn't help but take notice.
Recently, Rising Tide released Fort Gorges IPA as a part of their Island Series – a series of IPAs named after the many islands in Casco Bay. The brew is described as hazy and smooth with notes of tropical fruit and pineapple. A portion of the proceeds from this limited release will be given to Friends of Fort Gorges.
With an image of a red, white, black and yellow ferry cruising past the fort pictured on the can, it's hard not to imagine enjoying a cold one on Casco Bay. Just be sure to "Cheers!" to our gorgeous Gorges while you cruise on by.