Summer 2021 has gone and went in the blink of an eye! As we switch over to our fall schedule, we're still thinking about those last few moments of summer sun. For some, the end of summer signifies the beginning of a new school year, cozier weather, or the transition into a busy holiday season. For Bill Middleton, resident of Great Diamond Island and Casco Bay Lines passenger, the end of summer signified something a little different this year: a new path for old bicycles.
Bicycles are Bill's primary mode of transportation on Great Diamond. The "car-free" island has a limited network of roads, with bikes and golf carts shuttling residents and visitors from one end to the other. But being the main mode of transportation isn't always a ride in the park – busy summers full of sea mist, unpaved roads, and unexpected rain storms can put wear and tear on the beloved bikes of residents and visitors, with some even rusting up beyond repair.
"Throughout this past summer, I started noticing old bikes ending up in dumpsters around the island," says Bill. "I figured there had to be a better way to either donate or recycle bikes that otherwise would just be tossed at the end of the season." The sight of these well-used, discarded bikes got Bill's wheels turning, prompting him to crowdsource for donation ideas in a Facebook group dedicated to local bike commuters. With a handful of commenters recommending Gear Hub, a serendipitous collaboration began.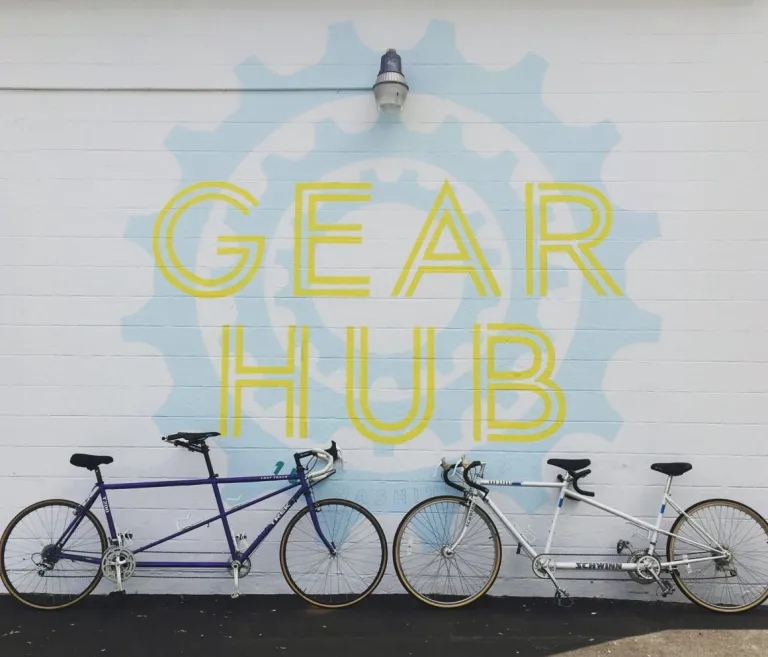 Gear Hub, a local non-profit and outdoor equipment shop headquartered in downtown Portland, refurbishes old bicycles and gives them a new life. With their own garage located on Washington Avenue, Gear Hub takes in donations of used outdoor gear, then meticulously inspects and safely repairs the equipment to resell at an affordable price. After setting his sights on Gear Hub, Bill put the pedal to the metal. "I spotted a bike in the trash, walked it into town, went up Washington Avenue, and headed straight into Gear Hub." Bill chatted with the Gear Hub team about their donation and recycling process, learning about bicycle refurbishment and how the team salvages usable parts to repair other bikes that are donated or brought in for service. After circling around some ideas, Bill and the Gear Hub team started to form a plan for collecting bikes on Great Diamond – but their plan was about to get even bigger.
"After I realized that refurbishing donated or discarded bikes was possible, I thought – why stop at Great Diamond? Why not source donations from all of the islands? That's when Casco Bay Lines came in," explains Bill.
As many of the islands in Casco Bay are car-free or offer limited motor vehicle access, bikes are frequently used on all of the islands – one of the many reasons CBL allows bikes onboard with a designated bike ticket! With this in mind, Bill reached out to our team and asked if we would be interested in helping collect bike donations. Of course, we said yes – and then we were along for the ride! After a few phone calls and brainstorming sessions, the plan was in place: Bill would help get the word out to the islands, asking those who wished to participate to drop off used bikes at their island's dock; our crew would collect these donations along our route; Gear Hub would pick up any and all bike donations from our main terminal once the route was complete.
With the donation day scheduled for August 19, Bill felt that even if we could collect just one bike from each stop along our route, that would make the donation day successful…and was it ever! Over 35 bikes were donated to Gear Hub that day – our crew hauled donation after donation from island docks, keeping them safe and sound from the day's stormy weather until we could pass them off to the miracle workers over at Gear Hub. The Gear Hub team immediately set to work – shuttling back and forth from our terminal to their garage, salvaging parts and starting repairs.
A HUGE thank you to the Gear Hub team for all of your amazing work and to Bill for your organizing efforts! For more information on Gear Hub or to make a donation, please visit www.portlandgearhub.org.