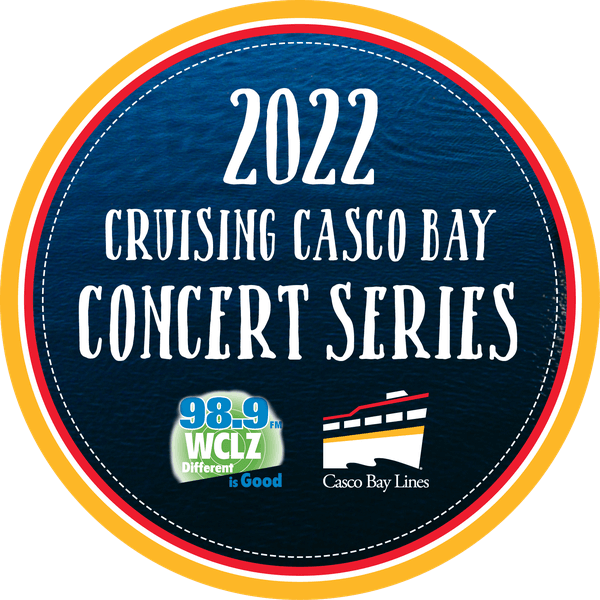 Now that Fall is in full swing, it's the perfect time for us to take a moment to reflect on one of our favorite things that happened this summer at Casco Bay Lines: our Cruising Casco Bay Concert Series! We teamed up with our friends at 98.9 WCLZ and brought a whole summer of local, Maine musicians to the open water, with five artists rounding out the series in total.
We first tested the waters with the new idea of a Cruising Casco Bay Concert Series back in 2019. Although the first year was a huge success, we had to take a couple of years off due to the pandemic. This only fueled our drive to make this year, our second year back, the best one yet!  
The concerts took place aboard the beloved Bay Mist on five Thursdays between June and September. Our guests boarded at 6:30pm, we set sail by 7pm, two hours of sweet, Maine music set to the backdrop of sunset skies on Casco Bay before returning to the terminal at 9pm. Passengers were encouraged to bring their own food (if you got there at 6:30 you could enjoy dinner before the boat even left the terminal!) and we offered a cash bar. Then once things got moving – it was. What more could you ask of a Portland, summer evening!  
1) We kicked off the series on June 9th with Don Campbell Band! Don is a well-known Portland musician who's amassed a devout following over the decades. His music is described as "American crossover," playing in the style of artists like the Eagles and John Cougar Mellencamp. A great turnout for our first concert back!  
2) Second up in our series was The Jason Spooner Band on June 23rd. Jason and his band have a signature "American Roots" sound and have gained significant notoriety throughout the Northeast with their constant touring and five studio releases – a few even featured on 98.9 WCLZ!
3) Our third band set sail on July 14th. Portland musician, Kenya Hall Band was – an extra special treat as this was her only performance this summer! Kenya and her crew brought the funk with a seven-piece band featuring brass, keys, drums, and guitar, and kept our audience on their feet all night! 
4) Our fourth band in the series set sail on August 11th and is well-known around Portland for their Monday night summer residency at Portland House of Music and Events. Gina and the Red Eye Flight Crew brought the boat down with their funky renditions of beloved, crowd favorites.  
5) Closing out the series was no other than The Pete Kilpatrick Band, who also made an appearance in our lineup back in 2019. Pete's a Maine-based singer-songwriter with a loyal following throughout New England. This final cruise experienced the glow of a full moon and the green lights Pete and his band brought to set the scene on the bottom deck. A fantastic way to close out our series!  
We owe a HUGE thanks to 98.9 WCLZ for helping us put together the whole series, and to the Ocean AVL team for providing top quality sound to all our musicians.  
While the 2022 series might be over, we're already making plans for Summer 2023! And, in the meantime, keep in mind that you could host your own special event cruise. The Bay Mist is available for private charter! We're able to accommodate groups up to 250 with room for food, drinks, and entertainment along the way –either to an island or just to cruise around Casco Bay! Get more information here: https://www.cascobaylines.com/maine-boat-charters-groups/private-charters/ 
Til' next summer!