For Hope MacVane, Cliff Island is a family affair – she grew up there, her children have spent summers there, and now she manages the Cliff Island Store just like her parents did in the 80s.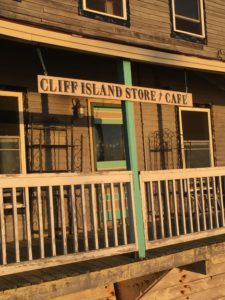 The Cliff Island Store & Café has been a mainstay on the island for generations, and Hope has been there through a few of its many transformations – first working at the store when she was a Portland High School student and, later, managing the store after she graduated college. This spring when she heard the owners were looking for someone to run the store, the South Portland High school teacher figured if she was going to be working hard during her summer break, she might as well be doing it in a place she loves.
Each year around Memorial Day, the store opens its doors for visitors from all around the world. This year, throughout the summer, Hope has worked to add some specialty items like Union Co. Bagels, Botto's Breads, Coffee by Design, local beers and lobsters, Standard Baking goodies, and fresh veggies from Cultivating Communities to the store's stock of essentials. She said this process has been a little bit of trial and error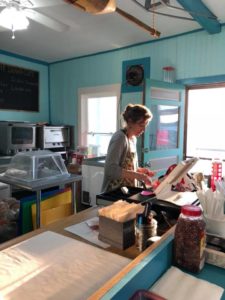 throughout the summer, but she loves seeing the look on a customer's face when she gets something in that they've requested.
When we asked what keeps drawing her back to the island, she said emphatically "the people really make this place the best." Cliff Island has the smallest year-round population of the islands we serve, and, according to Hope, that means people look out for each other.
For some of our lucky deckhands, that means a special treat at the end of a run.
When you walk into the Cliff Island Store & Café, you'll spot some names up on the "Ice Cream Fairy Board" meaning someone has treated them to an ice cream cone. Hope says that several of our deckhands have found themselves on the board as a thank you for a job well done.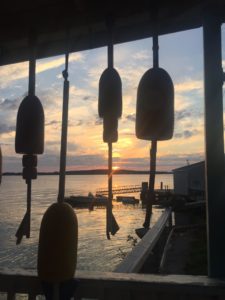 Hope had us blushing when she said how much she appreciates our hardworking captains, deck hands, and freight crew. "We wouldn't be here without Casco Bay Lines," she said. "How am I going to get ice cream, produce and bread without them? They get us what we need and are so supportive."
With summer winding down, Hope and her family have begun to think again about school bells and classrooms. Life on Cliff Island will return to its regular (peaceful) pace and the store will shut down for the season. For now, you can still grab an ice cream cone on the weekend or pick up some provisions off the noon and afternoon boats during the week. Hope says they'll run that schedule for a few weeks and re-evaluate their official closing date in mid-September.
We've said it before and we'll say it again – there's something truly magical about these islands that keeps us all coming back for more. The spirit of community and tradition is like no other. And Hope's family tradition of caring for her community on Cliff Island is a great example.
We really love delving a little deeper into what makes each island unique and love when you join in! We've received a ton of great photos as part of our #CruiseCascoBay photo contest, so keep 'em coming –we'll be drawing a winner every week through September 14.
From time to time on our blog we'll be featuring stories from island residents. Casco Bay Lines remains committed to fostering strong relationships with our island communities. If you have an interesting story, feel free to reach out to us.